Family can be difficult, but when it comes to genes, you can't really get mad at anyone. You can't choose what you get from your parents and grandparents. In any case, we are sure that these grandchildren of famous celebrities don't have much to complain about as they got good looks and talent!
Take a look at our list and you won't believe just how similar the grandchildren are to their famous grandparents!
Apple Martin — Blythe Danner's Granddaughter
Good looks definitely run in this family! The classic beauty Blythe Danner's good genes luckily transferred not only to her daughter, Gwyneth Paltrow, but also to her granddaughter, Apple Martin.
Although she is well into her seventies, Blythe's impressive filmography is still growing. We were happy to see her reprise her role as Will's mother in the hit sitcom Will and Grace. What's more, she showed off her acting chops again as a guest star in two episodes of American Gods. We're looking forward to seeing if Apple will follow in her mother and grandmother's footsteps!
Emma Ferrer — Audrey Hepburn's Granddaughter
Audrey Hepburn is still considered one of the best actors ever, gaining respect and admiration with incredible films such as Breakfast at Tiffany's and Roman Holiday. In addition to her talent, she also stood out due to her classic beauty and elegance. So, it's no wonder her granddaughter, Emma Ferrer, is stunning as well and is a successful model. Sadly, Hepburn passed away in 1993, but her legacy is as important as ever.
Ethan Peck —  Gregory Peck's Grandson
Another Roman Holiday alum, Gregory Peck, is a legend in the acting industry. With the films To Kill a Mockingbird and Spellbound, he secured his status as one of the acting giants. And when he wasn't acting, he used his time for charitable efforts, serving as chairman of the American Cancer Society. His grandson, Ethan Peck, was lucky enough to get his good looks, as well as his love for acting.
The younger Peck is also in showbusiness, with many recurring roles in TV shows, as well as the main role in the TV adaptation of a beloved rom-com 10 Things I Hate About You. He also played a young Spock in Star Trek: Discovery. You'll be able to see him in that role again in the upcoming series Star Trek: Strange New World.
Oliver Elfman — Peter Fonda's Grandson
Jane is not the only Fonda that made it in Hollywood. Her brother Peter was also an actor, director, and screenwriter. In fact, he was even nominated for an Academy Award for Best Original Screenplay for Easy Rider, as well as for Best Actor for Ulee's Gold. His signature smile and beautiful eyes were inherited by his grandson, Oliver Elfman.
Oliver is also interested in show business, especially music and acting, which is no surprise when you consider that his father is the composer Danny Elfman, and his mother is the actress Bridget Fonda.
Dree Hemingway — Ernest Hemingway's Granddaughter
We are all well aware of how talented a writer Hemingway was. After all, there's a reason his works are still part of every English Department's syllabus. The Pulitzer Award and the Nobel Prize for literature speak volumes of the quality of his books, but there's one more thing he was well-known for: his handsomeness.
Luckily, he passed on his good looks to his granddaughter Dree, who has a successful career in the fashion industry. She has worked on numerous high-profile fashion campaigns and starred in several independent films, such as Starlet (2012).
Arthur Donald — Paul McCartney's Grandson
Although Paul McCartney has as many as eight grandchildren, the one who resembles him the most is Arthur Donald, son of Paul's daughter Mary. Paul McCartney, one of the members of the widely popular British band The Beatles, is one of the most successful musicians of all time. It seems that his grandson got more than his looks from Paul, as he is currently a student at the University of Yale.
Amba Isis Jackson — Mick Jagger's Granddaughter
Speaking of music legends, Mick Jagger, the embodiment of the rock and roll spirit, also has numerous grandchildren, as well as great-grandchildren. Here we take a look at one of them, his granddaughter Amba Jackson, daughter of Piers Jackson and Jade Jagger. She is in a relationship with Frankie Lagrange and they have a son named River together. Apart from that, they like to keep their personal lives private.
Aiden and Jacob — David Bautista's Grandsons
This successful wrestler and actor is proof that you can have it all —  family and a career (or two). After becoming a six-time world champion in wrestling, he turned to acting. You might know him as Drax the Destroyer from the MCU, a role he will reprise in the upcoming film Thor: Love and Thunder.
Before the age of 40, he already had two grandsons, Aiden and Jacob, through his daughter Keilani. Both boys resemble him, but especially Aiden, the older one.
Drew Barrymore — John Barrymore's Granddaughter
As a member of the famous Barrymore family, Drew was in the spotlight from a very young age. Her grandfather, John Barrymore was the biggest movie star during the '20s and '30s. Drew inherited not only his good looks and charm but also a talent for acting. She made her film debut when she was only five years old and has been in over 70 films since then.
Unfortunately, substance abuse also runs in the family — both her grandfather and father died from alcohol-related problems. Although Drew herself had problems with addiction in her early teens, she was able to overcome them and has been thriving ever since!
Anjelica Huston — Walter Huston's Granddaughter
You probably know Anjelica Huston as the star of The Addams Family. But what you might not have known is that she is the daughter of John Huston, which makes her the granddaughter of the great Walter Huston. Anjelica does resemble her grandfather, especially around the mouth and the nose, but what she also got from her grandpa is an immense talent for acting. Sadly, the two of them never got to meet, as Walter died one year before Anjelica was born.
Jason Ritter — Tex Ritter's Grandson
One glance at Jason Ritter is enough to see the similarity to his father, John Ritter (Three's Company). But if we go one more generation back, we come to Jason's grandfather, Tex Ritter, from whom both John and Jason got their good looks. Tex Ritter was a country music singer and actor in the '30s. He starred in over 60 Westerns and is a member of the Country Music Hall of Fame.
His grandson's following in his footsteps, at least when it comes to acting. Jason Ritter is best known for his role as Kevin Girardi in Joan of Arcadia, as well as his recurring role of Mark Cyr in the TV series Parenthood, for which he received an Emmy Award nomination.
Sean Flynn — Errol Flynn's Grandson
Although Errol Flynn is not as influential a figure as he once was, he achieved considerable success during his lifetime. In his most notable roles, he was always a hero: Robin Hood in The Adventures of Robin Hood, the lead in Captain Blood, as well as in a number of Western films. His grandson Sean closely resembles his late grandfather and he chose an acting career as well. Some of you may know him as Chase from Zoey 101.
Lena Redford — Granddaughter of Robert Redford
A Hollywood legend, Robert Redford has given us many incredible performances and received numerous accolades. To mention just a few, he has won two Academy Awards, a British Academy Film Award, two Golden Globes, as well as the Cecil B. DeMille Award. His equally rich personal life resulted in four children from which he now has seven grandchildren.
With his son, James Redford, he established the Redford Center, which aims to raise awareness of environmental issues through filmmaking. His granddaughter Lena Redford, who got his charming looks and lovely red hair, is also a part of the organization.
Amaya Josephine Hermann — Granddaughter of Jayne Mansfield
There's hardly anyone who hasn't seen at least one episode of Law and Order: SVU. But what does Law and Order have to do with Jayne Mansfield's granddaughter? Well, its star, Mariska Hargitay is actually the daughter of the late actress Jayne Mansfield.
Unfortunately, Mariska lost her mom in a tragic car accident when she was only three years old. She says, however, that because of that, she has learned that family comes in many forms. So, with her husband Peter Hermann, she has two adopted children, a daughter Amaya and son Andrew, and a biological son named August.
Rose Kennedy Schlossberg — Jacqueline Kennedy Onassis's Granddaughter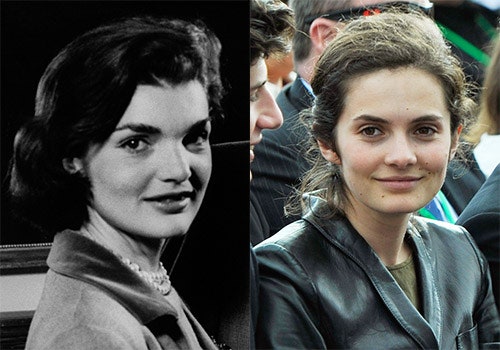 Jackie Kennedy was one of the most beloved and respected First Ladies in the history of America. She and JFK were a power couple before power couples were even a thing. Her impeccable style, manners, and elegance are still ideal today.
One of her grandchildren, Rose Kennedy Schlossberg, was lucky enough to inherit the timeless beauty from her grandmother. Rose is a Harvard alum and an aspiring actress, but bearing in mind the family she comes from, we have no doubt that she'll achieve great success!
Bridget Fonda — Henry Fonda's Granddaughter
No one passes down good genes quite like the Fonda family. Henry had two children who followed in his footsteps — Jane and Peter. But the acting lineage of this family does not end there: Jane's daughter, Bridget, is a great actress in her own right, receiving multiple nominations for Emmy and Golden Globe awards. She is also a great beauty, and you can see that her sharp jawline and large eyes come from her grandpa Henry Fonda. What a family!
Zoe Kazan — Elia Kazan's Granddaughter
Actress Zoe Kazan also comes from a showbiz family, so it's no wonder she chose a similar path as well. Her father and mother are both screenwriters (Nicholas Kazan and Robin Swicord). Successful as her parents may be, her grandfather was even more influential. Elia Kazan was described by The New York Times as "one of the most honored and influential directors in Broadway and Hollywood history."
However, he tarnished his career by turning in some of his colleagues during the anti-communist 'witch hunts' in the fifties. His reputation never really recovered from this. Zoe, on the other hand, seems to be doing great. She's been working consistently since the early 2000s and we're excited to see what she does next!
Katie Cassidy — Jack Cassidy's Granddaughter
You might know Katie Cassidy as a scream queen from a number of horror films or as Laurel Lance in the so-called Arrowverse. But did you know that her grandfather is Jack Cassidy, a famous Broadway actor who ventured out to TV during the 60s and the 70s? He sadly passed away in a fire accident in 1976, but his acting talent and a captivating smile live on through his granddaughter Katie.